"In a world where carpenters get resurrected, everything is possible."
Take the quiz:
"What Historic Woman Are You?"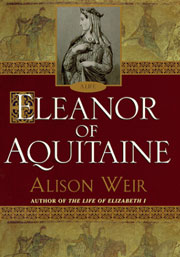 Eleanor of Acquitaine
One of the first great queens of England, Eleanor was her own woman. She married the French prince at 14, but after six years of marriage and no son, she divorced him and secretly married the younger (and wealthier) heir to the English throne. Her sons were some of the greatest monarchs in English history! You must be tenacious, audacious, and brave if you're like Eleanor. Read more about her:
http://www.womeninworldhistory.com/heroine2.html
Yay! An excuse to quote
The Lion in Winter:
I made Louis take me on Crusade. I dressed my maids as Amazons and rode bare-breasted halfway to Damascus. Louis had a seizure and I damn near died of windburn... but the troops were dazzled.

[to her jewelry] I'd hang you from the nipples, but you'd shock the children.

Of course he has a knife, he always has a knife, we all have knives! It's 1183 and we're all barbarians!